The latest search algorithm update from Google in 2022 was announced on Monday, September 12, 2022, with the release of the "September 2022 broad core update" algorithm update.
This is all part of Google's ongoing attempts to reduce the impact of bulk-produced search engine focused content that is constantly being indexed and displayed in the search results. It closely follows the "Helpful Content Update" in August and, in combination, seems to be impacting in a more major way than just the "Helpful Content Update" on its own.

All We Know About The September 2022 broad core update so far
When was the "September 2022 broad core update" announced?
This broad core update was announced by released on the Google Search Central Twitter account.
September 12, 2022 at around 11:25 pm ET
How long will the "September 2022 board core update" take to roll out?
In the tweet, it is stated the September 2022 broad core update will take two weeks, which seems to be the standard time for rollouts at this time.
What Content, Apps & Tools does the September 2022 broad core update target?
This core update will target all types of content, including Web Search, apps like Google Discover, specialist indexes like Google News, and content features in SERPs like Feature Snippets, Rich Schema, FAQs, Reviews, etc.
Which Countries or Languages is the September 2022 broad core update targeting
The Google core update is a global update impacting all regions in all languages.
What is the impact of the September 2022 broad core update on Google's Search Engine Results Pages?
This update has had a far more major impact than the August "Helpful Content Update" as can be seen from the SERP tracker tools below.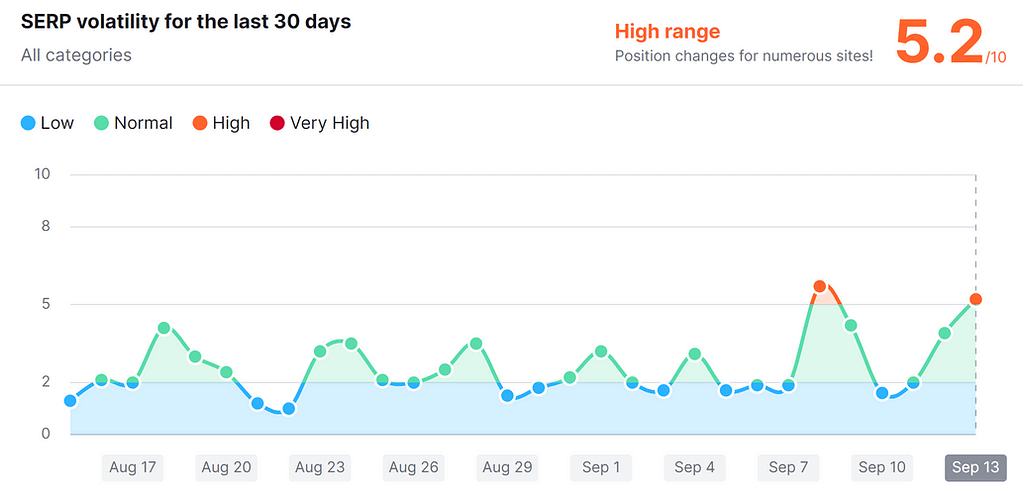 What Are The "AI Content Wars"?
This is Sitelynx's term for the growing battle in Search between AI content creation tools and the AI driven algorithms of Google. Or, as Google calls it, "search engine first" content vs. "user first" content.
This is one of the first Machine Learning AI Algorithm battles – Content AI's vs. Search AI's

Sitelynx 2022
AI Content tools have been around since 2020 based on the new AI content sets (OpenAI's GPT-3 being the most used), and allowed for industrial-scale "search engine first" content creation.
Google, an "AI First" company, is using AI to try to detect and tag sites using this "search engine-first approach " content production techniques.
This classic technology, "Arms Race", has Search and SEO in the middle of the "battlefield".
Casualties of the "AI Content Wars"
This update targets you if your site has a "search engine first" content strategy!
However, as with every "war", there is "collateral damage", which leads to many site owners scrambling to try and figure out if their website SEO traffic has been damaged in this new Google Broad Core Update. If you have seen a sudden drop in traffic or conversions since the update, don't worry – you're not alone.
Which Sectors have been hit by the September 2022 broad core update the most?
Looks like mainly informational content categories like Pets, Health, and Beauty & Fitness.
If your site is in any of these sectors and has been hit by this update, please look at our full SEO guide on recovering from the 2022 Google Updates.
All We Know About The August 2022 Helpful Content Update
When is the "Helpful Content Update" being rolled out?
In the announcement, it stated that "The update will start rolling out next week." and "could take up to two weeks" to fully roll out.
The release date was confirmed as:
Thursday, August 25th, 2022
When Was The Rollout Completed?
Google confirmed that the rollout was completed as:
Thursday, August 25th, 2022
This was announced on the Google Search ranking updates page.
What Days Of The Week Does Google Normally Release Algorithm Updates On
At Sitelynx, we have researched the most common days for ranking updates to be released, as you can see in the table below.
As you can see from the data, 47% of releases happen on a Wednesday. However, both the latest "Helpful Content Update" and the May 2022 Broad Core was on a Thursday so it seems as if the Google Engineers are releasing more towards a weekend now.
Which Google Language Indexes will Helpfup Content Update impact?
Update currently only impacts English global searches, but Google plans to extend to different languages in the future.
What Is This New "unhelpful content" Classifier?
Google only says, "Our systems automatically identify content that seems to have little value, low-added value or is otherwise not particularly helpful to those doing searches."
In Sitelynx's opinion, the new Google Search Algorithm "unhelpful content sites" Classifier is likely to be based on a mix of:
site-wide topic content classification
"Information gain" value for current top pages
This would allow Google at scale to produce a classification that says the relevant site's topics and when it has pages that are not relevant, as well as when those pages are just an aggregation of already known "facts" and don't add to the topic with anything unique.
You could think of this as a weapon in the "AI Content War" going on in Google between the bulk content creators and the Google Engineers.
What is a Google Search update?
First, Let's take a step back and look at what these Google Search Updates are.
Google has a history spanning over 20 years of search for information — which means the algorithm is constantly updated with new data processing from the company. Google introduced new search features to its search engine in May 2022 and again in August 2022 with core updates. So a Google core update is a search system level change with a significant overhaul of its search ranking and display algorithms. While most launches of algorithm changes are ignored (there are 1,000s per year), a core update needs attention because the core search engines see its ranking signals as needing to change to improve User experience. Continue reading to learn more about Google's core algorithms updates, including examples and fixes.
What Is A Google Broad Core Update
Broad Core Updates are when an algorithm update is designed to improve search results' quality by ensuring that relevant and authoritative content is ranked highly. During the Broad Core Algorithm Update rollout, the update affects all languages and countries over the following two weeks.
These updates have caused significant changes in Google search rankings for many websites "caught" in the changes to the algorithm and therefore tend to have the most significant impacts. Of course, that doesn't mean your site will be affected, but we will show you how to check and find out below.
Google uses an analogy of "a top 100 movies list"
Google describes updating a top movie list:
you made a list of the top 100 movies in 2015
A few years later, in 2019, you refresh the list. It's going to change naturally.
Some new and wonderful movies that never existed before will now be candidates for inclusion.
You might also reassess some films and realize they deserved a higher place on the list than before.
The list will change, and films previously higher on the list that move down aren't bad. There are simply more deserving films that are coming before them.
What Google Algorithm Updates Have There Been In 2022?
There have been six updates in 2022, with the "broad core" update in September 2022 being the latest Google Update.
These are:
September 2022 broad core update
August 2022 Helpful Content Update.
July 2022 product reviews update for English-language product reviews.
May 2022 Broad Core Update.
March 2022 Product Reviews Update.
February 2022 Released the page experience update for desktop.
Product Reviews Update March 2022
The Product Reviews Update (March 2022) had Google announce an update to their product reviews algorithm. This update focused on Google surfacing high-quality and trustworthy product reviews from many affiliate-driven product review sites.
It was noted again at the time that it would take a "few weeks" to roll out fully. In addition, it built on the work of the two prior product review updates. Like those, this update is meant to help Google to identify high-quality product reviews and reward them with better rankings.
In this update, there were 3 new bits of advice from Google for the Product Reviews Update:
ranked lists
recommendations of "best" products
creating reviews for multiple vs. individual products
When Was The May Google Core Update?
That was the 24th of August 2022, when Danny Sullivan, the official public search liaison for Google, announced it in an official blog post, "May 2022 core update".
Danny noted that it would take "1-2 weeks to fully roll out" in his post, so with up to two weeks, there might not be an immediate "hit" on Google Organic Traffic to your sites.
However, in the SEO communities, there were posts within 24 hours of sites taking hits from the new Broad Core Update.
Google confirmed this algorithm update as they have started to do over the last few years (especially since Danny Sullivan has taken up his role). Still, in the past, there were many times a change noted in the SEO community was not an unconfirmed update by Google. So instead, it has been down to the Webmaster & SEO community to share experiences and tell if a likely Algorithm update has happened.
It is noted that the rollout started at 11:30 ET. This means that depending on where your site is in the world (and which timezone your analytics is set in), your site might start seeing traffic drops from these times (please note 24 hour clock and bold shows the next day):
New Zealand – 3:30 2022/05/26
Australia – 1:30 2022/05/26
China, Taiwan, Hong Kong, Macau, Malaysia, Singapore, Western Australia, Brunei, Irkutsk, Central Indonesia, Philippines & Mongolia – 23:30 2022/05/25
The Middle East, including Lebanon, Israel, Iran, Palestine, Suadi Arabia, United Arab Emirates – 17:30 to 19:30 2022/05/25
Europe including Finland, France, Germany, Ireland, Norway, Portugal, Spain, Sweden, and the United Kingdom – 16:30 to 17:30 2022/05/25
Canada, Central America, South America, and the United States – 11:30 to 8:30 2022/05/25
So check your Google Analytics (Universal or Google Analytics 4) to Google Organic traffic drops from these times onwards.
Google Broad Core Update Rollout Now Confirmed As Complete
What Was The Impact Of the May 2022 Broad Core Update
The May 2022 brought a very large change to the search results pages monitored by the SEO tools.
SEMRush scored 9.4/10 which is a a very high and the highest in May 2022/
What Was The Overall Impact Of Google May 2022 Broad Core Update
According to SEMRush.com, there was a change where 17% of URLs in the top 20 were new.
---
Which Sectors Were Hit Most In May 2022 Update?
All sectors were impacted with only Travel (8.4) seeing fewer changes than the average (9.4).
Real Estate was impacted much more than in November 2021 update.
So it looks like this update was not targeting specific sectors like the Medic Update (August 2018) with its focus on "Your Money Or Your Life" (Health & Finance). It has hit nearly all sectors by the same amount.
How Do You Know A Update Has Been Released If Google Doesn't Confirm It?
A whole group of SEO tools provides free-of-charge "weather reports" on what is happening in the Search Engine Results Pages, but that doesn't mean it is a definite Algorithm change.
SEO "Weather Report" Tools
Sign up to the Sitelynx SEO Newsletter, where we monitor the latest significant updates and what is happening in SEO, PPC & Analytics
SEMRush Sensor (as you can see below the impact on the 26th May 2022
Google SEO Updates FAQ
How Many Broad Core Algorithm Updates Does Google Release Per Year?
Sitelynx has analyzed the Google Search Algorithm updates as recorded by Search Engine Journal, but we have analyzed the last ten years specifically to answer this question.
Here is the table of results for all updates (search, local, etc.) as well as Core Updates.
So to answer the question "How Many Board Core Algorithm Updates Does Google Release Per Year?" – in the last ten years (2012 to 2022), there have been 79 updates so far. But out of those 79 updates, only 16 of them have been Google Core Updates.
So there have been less than 2 Broad Core Updates by Google per year (an average of 1.6) in the last decade.
How Often Are Google Core Updates?
When we look at the Google Core Algorithm update schedule over time, some trends emerge.
The busiest year for Core Updates was 2018, with 4 Core Updates. Then from 2019 to 2021, there have been 3 core updates per year, and then back in 2016 (when Google started calling them "Core Updates" officially), there were 2.
This year in 2022, there has been one so far with the 25th May 2022 release, which is now rolling out.
Which Were The Busiest Years For Google Search Updates?
If we zoom out and look at all Search Algorithm updates (Web Search, Local Search, Images, etc.), 2012 was the busiest year with 21 updates.
The second busiest year was the last year, 2021, with 13 updates. So it seems the rise in Web usage during the COVID-19 Pandemic showed the need for more changes to Google Search than in previous years.
The Month With The Most Core Updates?
The most "SEO dangerous" month for Core Updates is January, with a total of 4 since 2012. So it looks like the Google Search Engineering Team waits for the seasonal peak in consumer shopping in November and December (Singles Day, Black Friday, Holidays) to be over, then drops a new algorithm update in the New Year.
As a side note, you can have a look at getting a Google Engineering job with them here.
How To Recover From A Google Algorithm Update
Sitelynx has put together a full SEO guide on how to recover from the 2022 Google Updates.
Please read that first and then ask questions in the comments, email us or on Live Chat if needed.