2023 Another Year of Change
As social media and search continue to permeate our daily lives, digital marketing has embraced its walled gardens and monopolies with open arms. In recent years we have seen marketers willingly invest vast amounts of their budgets into Silicon Valley to benefit from data-driven advertising and highly engaging platforms that offer unparalleled reach.
Despite the giants of industry dominating past years with seemingly unstoppable success, 2022 brought forth a complex set of conditions that could disrupt their current trajectory. Privacy concerns and economic uncertainty fuel a fiercely competitive landscape – making it more critical than ever for marketers to adjust to stay ahead.
Despite initially dominating the tech industry, 2022 has raised collective and individualized challenges for significant digital marketing players. Increased scrutiny from governments, regulators, and organizations seeking to hold them accountable has damaged the financial prospects of large digital media platforms – even as emerging rivals such as TikTok threaten their once unassailable market share.
And then there is the soap opera of Twitter, led by unpredictable ownership under Elon Musk, making it especially difficult to know where best to invest resources going forward in this ever-changing landscape.
Digital Marketing Trends 2023:
Data Collection and Privacy
Data, Data everywhere, and more and more to sync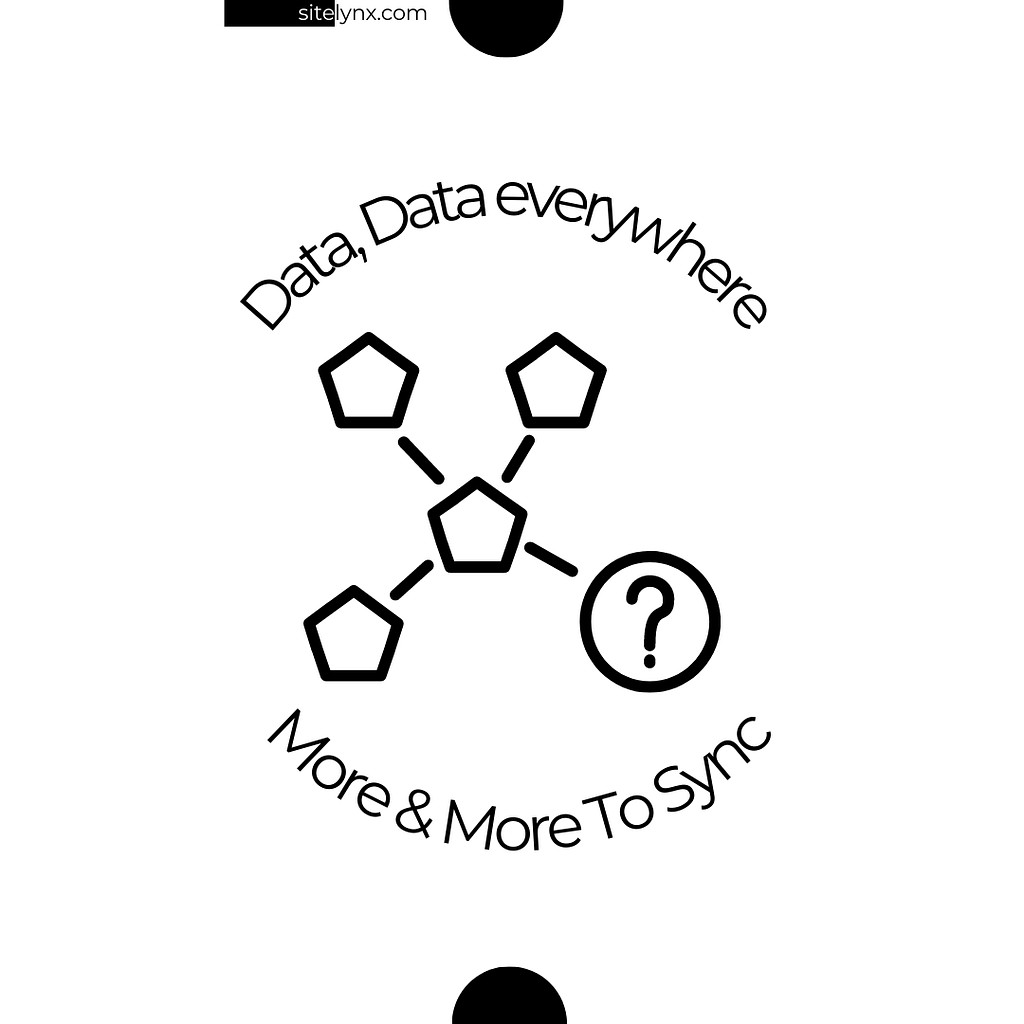 The importance of data is at the center of much of the discussion moving forward. But with marketing data sources doubling in 2 years since 2020, what needs to be done to the Marketing team to get control of their data beyond import and cut & paste?
Insights:
The State of Marketing 2023 survey of 6,000 marketing leaders conducted by Salesforce found that:

75% still rely at least partially on third-party data
68% said they plan to move toward first-party data
51% said their measures to protect consumer privacy go beyond regulatory requirements and industry standards
Marketers predict they'll use nearly twice as many data sources in 2023 than they used in 2021
Actions:
Select a data ingestion tool to bring these expanding sources together
Please note our blog is supported by its readers, and some of these links will be partner links with those companies. Sitelynx will receive a small sales commission if you purchase through our website. You will not pay any more than if you go directly. This NEVER influences our recommendations or ordering of options, as we use these tools ourselves and give a range of choices based on the use case.
Marketing Data Scarcity
Digital marketing has become almost entirely reliant on freely traded data availability in the last decade. But those good old days are changing, so marketers must also change.
Insights:
Increasing prevalence of privacy-specific legislation across the globe, marketing data is becoming increasingly scarce. With over 70% of countries and regions around the world now featuring some form of privacy law restricting access to specific marketing data, marketers will likely face a significant scarcity in their data sources from 2023 onwards.
This will be highly detrimental to marketing departments across the board.

They may need to identify which strategies are most effective or which audiences are most engaged without critical insights from their data. Looking forward, it will be necessary for marketers to evaluate any existing resources they have on hand and create robust plans to mitigate these future losses of data.

Google Analytics 4 is going to replace Universal Analytics in July 2023.

GA4's new Machine Learning (ML) Modeling mode and ML anomaly detection will "make up for the lack of data" that Google already sees happening online.

This Data Scarcity is not just a future threat, an example of the sort of impacts already happening.

Weakening ad attribution is especially challenging for companies that rely on driving traffic from a social app to a retail app because most people have opted out of tracking on Apple devices.

But it is essential to understand that data scarcity isn't because of legal changes. It's also because corporate strategies have meant they no longer want to work with each other. Apple woke up in 2019 and realized people were building multi-billion dollar businesses in their hardware and wanted their slice. So to start with, they broke the connection with Apple App Tracking Transparency (ATT).
Google Chrome browser will be stopping third-party cookies in Q3 2024 and this will seriously impact all marketing data.
No more behavior-targeted ads unless the proposed replacements take off
Actions:
Move to Google Analytics 4 now to stop data loss in 2023
Get GA4 Training for your marketing teams to ensure they are ready for the change in July 2023
Back up your Universal Analytics data in 2023, as Google has said it only guarantees 6 months of access to the data from July 2023
Audit your current third, second and first-party data
Retooling Around First-Party Data
From now on, marketing will need to create the proper context and the correct targeting using their first-party data rather than relying on brokered third-party data. This means a new skill set to give a prospect value to create a active relationship. From there discovery questions which feed into a profile to allow for better customization and curation of content & solutions.
Insights
Some of that change is also shifting audiences from one platform to another, and marketers will be catching up with that.

So rather than a simple objective of spreading your content as far as possible, it will reverse to targeting platforms that allow for first-party data collection strategies.

Consent Management Platforms
Customer Data Platforms
Asking for zero-party data from site and app users
Actions
Plan your new first-party data strategy
Review current systems to an improved 'data supply chain.'
Start learning first-party data collection techniques.
Changing Advertising Landscape
Digital Planning in the Hot Seat
Digital Planners and Buyers at Advertisers and Agencies have changed their attribution models this year because of privacy.
2022 has been a year of seismic shifts in the marketing landscape, and when we say seismic, we mean slow but irreversible, like continental drift. Good marketing leaders are aware of and re-evaluate their strategies. However, many lag behind with the "business as unusual" approach left over from the COVID pandemic.
This has thrown a spanner into an intricate toolbox for any marketer looking to stay competitive.
Insights
Apple Wants Its Slice Of The Ad Market Billions

Apple has set a goal to triple its advertising revenue to $12B

Estimated to be currently $4B but not broken out in financial statements
Currently selling search ads on the App Store

NBCUniversal sales team sells inventory on apps such as Apple News

Apple Maps, Books, etc., as yet unconfirmed

Social Media Ad Spend Is Falling despite social advertising taking a big cut in budget allocation of about 10% (down from 11.3% last year to 10.1% according to Gartner research)
TikTok has reduced its advertising revenue target for 2022 to $10B from $12B

2021 $4B as revenue represents a 150% YoY revenue growth
Advertising is TikTok's most significant revenue source

Meta is also exploring new ad formats, including AR.
Actions:
Test new ad formats and channels
Don't ignore web communities like Quora.com and Reddit as part of your tests. They are Social Media as well.
Musk's Twitter Drives Decentralized Social
By the second half of 2022, anyone following the social media industry will have become familiar with what is known as "decentralized protocols." The protocols allow social media companies to give users more power, allowing them to create networks within an open ecosystem. These programs became more popular following Elon Musk's Twitter acquisition.
Insights:
Mastodon ballooned in popularity, adding 230,000 new users in the days following Musk's takeover.
Tumblr also announced it would join the decentralized train, adding support for ActivityPub, the protocol powering decentralized social networks like Mastodon, Pixelfed, and PeerTube.
In 2023, Twitter co-founder Jack Dorsey's "decentralized" social platform Bluesky will launch.

Bluesky's decentralized "federated network" will allow users to create a single "global ID" to jump between distinct platforms or run several programs simultaneously.
The social media company's "AT protocol" will allow users to control their algorithm to customize their experience.
It needs to be clarified how or if Bluesky will moderate user content.

Tumblr's user count has grown 77% since Elon Musk bought Twitter.

ActivityPub allows users to create, update, delete, subscribe, and receive notifications from myriad platforms.

The recent Nostr, another decentralized social site, the launch is another example.

The social platform hopes to replace Twitter.

Some brands have begun shifting budgets into "really unique pockets," such as Reddit and Discord.

Discord doesn't allow ads, but many brands have formed their own servers to connect directly with fans.
Although breaking larger audiences into niche communities can be challenging compared to traditional social media marketing.
Actions:
Centralizing Social Networks
The big social networks are growing more alike than ever. This trend will likely continue with a features race driving a similar experience across each of the majors.
Insights:
Facebook, YouTube, and Instagram have all been racing to keep up with TikTok, leading to a year of the platforms copying each others' formats to keep users in their apps.

As TikTok and Instagram compete for audiences' attention, the content offering differences between the two will likely continue to blur.

TikTok's leadership aims to increase the number of app users to more than one billion daily active users by the end of this year and reduce the costs of acquiring and retaining said users.
Snap announced a major restructuring plan to refocus on Snapchat's key differentiators

community growth
augmented reality

Life Less Filtered in 2023, as more social media platforms and advertisers will begin experimenting with no-filter posts, as inspired by the explosion of BeReal.

Social media platforms will begin to focus on why BeReal has become increasingly popular among young users.

Users could be looking for more minimal, low-stress social environments where they can focus on posts from people they know.
BeReal experience allows users to create dual-camera images within a specified timeframe and without filters.
Snapchat launched a dual-camera function that allows users to simultaneously record photos and videos from the front and back camera.

Unlike BeReal, Snapchat's dual-camera mode supports augmented reality (AR) filters.

AR lenses can be added to dual-camera images after they're taken.
The company plans to add new features that allow users to view lens effects before taking a picture.

Meta also has confirmed reports that its photo-sharing app Instagram was internally testing a "IG candid"

The program is a nearly exact replica of BeReal.

Like in BeReal, the challenge opens once a day.
To compete with the trending photo application, Instagram launched a new dual-camera feature that simultaneously snaps images from a phone's front and rear cameras.

In Q3 '22, TikTok became the latest social media platform to replicate BeReal.

TikTok's "Now" feature asks users to post a photo or short video within a dedicated time period.
After sending a "Time to Now" notification, users are prompted to post a 10-second video or static image to the Now feed.

BeReal does not allow users to post videos as Snap & TikTok does

Social Network Gaming Will Come Back with More social platforms embracing gaming in 2023. Games afford social companies to keep visitors on-app or on the site for extended periods and can encourage users to keep coming back.
In October, TikTok announced it would eventually add a dedicated gaming tab. The option will increase opportunities for the platform to diversify revenue streams. The company partnered with over 10 developers to build TikTok-exclusive games.
Xbox users can now connect their Discord accounts to their Xbox One or Series X/S gaming systems to chat with friends while gaming.

PlayStation will likely add Discord connectivity this year.

The Rise Of Social Media Subscriptions. With Apple blocking tracking, more competition, and recessionary pressure, Ad Spend can't be relied on for Revenue Growth. So the next obvious option is to get Users to pay for features but at scale.

Snapchat's success in 2022 reached over 1 million subscribers, each paying $3.99/month to access premium features. The company claims over 1 million people subscribed to the premium service within the first six weeks of its June 2022 debut.
Twitter announced it would also allow users to subscribe to the platform, giving them access to select features, including the coveted blue check.
In Q3 2022, Meta began investigating new monetization channels across its social media platforms, including Facebook, Instagram, and WhatsApp.

The "New Monetization Experiences" team is charged with exploring novel revenue streams as the company struggles to reach earnings goals formerly fulfilled by ad sales.
Meta already charged for access to some of its platforms' features, such as Facebook "stars."
As a result, Meta opened a subscription-style service for Instagram influencers. Successful creators can ask their followers to subscribe for "exclusive content."
AI Content creation
Creative Computers and Content
Video-led marketers will need to think about what their creative assets look like and how to make more of them. User-generated content, the creator economy, and artificial intelligence, such as generative AI, have started to feature as part of marketers' content strategies in 2022 and will likely be an even higher priority in 2023.
Insights:
Q4 2022 Microsoft announced Designer, a graphic design app with image-generation technology powered by OpenAI's DALL-E 2.
The AI tech underpinned by DALL-E 2 is also integrated with Microsoft's Edge browser and Bing.
In Q4 2022 Canva introduced Magic Write to its new Canva Docs tool, which is an "AI-powered copywriting assistant" allowing one to create text using GPT 3.0. As well, there is the new Text to Image tool, allowing you to type the image you want to see, and it will create it for you.
Whole Industries to be impacted are

Already being impacted – Creative industries: Generative AI can be used to create original works of art, music, and literature. This could allow for the creation of new content at a much faster rate than is possible with human effort alone.
Next to impact Marketing and advertising: Generative AI can be used to create new marketing and advertising campaigns based on a set of desired outcomes. This could allow for more targeted and effective marketing efforts.
Future impacts Product design: Generative AI can be used to design new products based on a set of desired characteristics. This could lead to the creation of novel and innovative products that might not have been possible with traditional design methods.

Potential Benefits are

Creativity: Generative AI has the potential to create new, original content in a way that is difficult or impossible for humans to do. This can be particularly useful in fields such as art, music, and literature, where creativity is a key aspect of the work.
Efficiency: Generative AI can generate large amounts of content quickly and efficiently, which can be useful in situations where a large volume of content is needed, such as in marketing or content creation.
Personalization: Generative AI can be used to create customized content for individual users based on their preferences and characteristics. This could be used to create personalized advertisements, recommendations, or other types of content.
Insight: Generative AI can analyze and understand patterns and trends in large amounts of data, providing insight into complex systems and help inform decision-making.
Novel applications: Generative AI has the potential to enable new and innovative applications that were previously not possible. For example, it could be used to create personalized education materials or to design and optimize new products or processes.
Just so you know, part of the above insights was written by ChatGPT to show how suddenly this generative AI can be included in your everyday workflow.
Actions:
Plan where generative AI can be used in your current workflow; think to save time and budget as a good starting place.
Don't storm into a meeting and "threaten to replace the team with AI", instead, set up examples that take away everyday "boring" tasks that release time for more creative jobs, e.g., if your people are better at editing and curation potentially, then let the AI do the creation. The people can choose the best, like an Editor at a Magazine.
Search Goes Beyond Google
From AI to TikTok Is Challenging Google This Year
Google, the Search Giant of Alphabet Inc, with revenue of $282.11B and net income of $66.99B, is being challenged on more fronts than in previous years.
Insights:
Younger people have been using TikTok's search engine to find information, and Product research
People are also using Reddit to find advice from fellow Redditers

You can see this growth by adding the word "Reddit" to Google search queries to uncover relevant results.

ChatGPT has repeatedly been hyped by Influencers, Media, and Digerati as the "Google Killer."

Interestingly ChatGPT is based on the Google-developed LaMDA (LAnguage Model for Dialogue Applications)
In limited Testing, LaMDA produced similar results
However, in response, Google has issued a "Code Red operation" to various divisions, including research, trust, and safety, to aggressively develop and launch competing AI prototypes and products by mid-2023.

Microsoft plans to integrate OpenAI's ChatGPT software into its Bing search engine. The move, which could occur as early as March 2023, would enable Bing to produce more humanlike and user-friendly answers to search queries.

Microsoft previously invested $1B in the OpenAI research company in 2019. That investment included a deal allowing Microsoft to incorporate some GPT features into Bing.
By integrating the language-generating technology, Bing could produce full-sentence answers with sources in its search results.
It could also enable Bing to better compete with Google's Knowledge Graph database that surfaces information in search results.
Through the ChatGPT functionality, Bing could better take on Google's dominance in the search engine field.
Microsoft maintains an exclusive license to use OpenAI's GPT-3 text-generating AI.
Actions:
Sign up for a free ChatGPT account to test your search queries

What results were returned, and what are the sources?
Is your brand content included? If not, are there competitors?

If TikTok has your audience, look at the top #hashtags you use and the search results.

SERP and Creator analysis
Sitelynx is producing a complete guide to TikTok SEO. Look out for it in our newsletter soon.

Do a "your brand" + Reddit search on Google

Is your brand mentioned on Reddit?
What is the content, communities, sentiment, and Redditers posting
Setup a Google Alert to keep track of mentions
Searching for Recession
One change is that while people may be shifting away from impulse buying, the level of research before making a purchase is increasing.
Insights
Holiday spending 2022 people are still spending (6.5% year-over-year).

However, they are very thoughtful about how they do it, and they need to justify their purchases more. This means brands need more understanding about the Customer Journey and allowing the brand to be found at their customer's different stages of research.
A lot of brands have been advertising to the customer, but not engaging in their research and decision-making process.:
Liz Cole, head of social at VMLY&R, said the continued overlapping of platforms and their capabilities have also evolved platforms from separate islands to become part of the social web as a whole collectively.

As she sees it, platforms' users are, in many ways, all of the same audience, requiring content that transcends platforms. The changes are also evolving how agencies are planning content.
"Instead of thumb-stopping where you try to get people to be interested in content when they weren't, we're wondering whether to make content for people who are looking for content," Cole said.

This is all part of the "Messy Middle" approach to the customer journey and content planning.
SEO investment will grow

Free converting traffic will fit with recession budgeting
SEO ranks third behind short-form video and influencer marketing. Further, 88% of marketers with an SEO strategy will increase or maintain their investment in 2023, nearly a 5% uptick from the year before (84%).
Actions:
Look at your search and social media data together. Are there common keywords, hashtags, and queries that inform intent and topics of interest?
Can a customer research journey be built out of the data

Which might not be 100% at the moment but can key "moments" can be seen

SEO training needs to be updated to the new era, beyond keywords and metadata to intent, EEAT, and helpful content.
From eCommerce to Social Commerce
Shopping with Friends and Influencers
Marketers' efforts to integrate online shopping strategies with their social media strategies have also led to the growth of "social commerce." Facebook and TikTok have been testing live video shopping, Pinterest is building out new and long-awaited tools, and even Twitter has said it would like to make Twitter more of a commerce platform.
Insights
Some e-commerce platforms are reporting substantial social commerce traffic with growth 20%+ higher in 2022 than in 2021.
Where the commerce traffic is happening is also shifting.
More users are looking to social media platforms for inspiration on what to buy and are more willing to shop within social apps.

Over the 2022 holiday season, 60% of Gen Z and 56% of millennials told researchers they planned to shop for holiday gifts on social media platforms like TikTok, Instagram, and YouTube.

These figures increased from last year when just 49% of Gen Z and 46% of millennials reported using social media for shopping.

Snapchat is leading the way in showcasing how augmented reality improves the shopping experience and outcomes.

In 2022, Snapchat partnered with several companies to create immersive in-app shopping experiences, which allowed customers to virtually try on and view products before agreeing to purchase them.
For instance, Snapchat and New Balance partnered to debut a voice-activate augmented reality (AR) lens.

Users speak to the app, answering questions about someone they want to purchase gifts for.

For Halloween, Snapchat gave its users a chance to try on full-body Halloween costumes and purchase them in-app.

Snapchat partnered with Disguise Costumes to launch augmented reality (AR) filters.
Actions